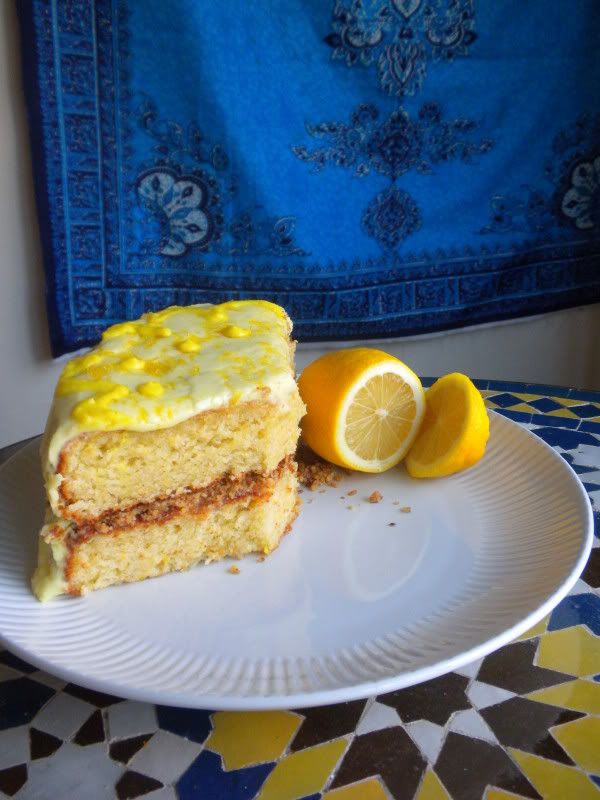 This February has signaled a sea change in a lot of areas of my life (see previous post), none the least being that my at-least-(yikes!)-10-year streak of heartwrenching, horrible, depressing Februaries has been broken.
I repeat: the curse has been broken.
Those who know me very well will understand just how profound this is. However, as a single, solitary day remains in this annual accursed month, I have somehow managed to escape the rhythm of terrible events, deaths, illnesses, breakups, exploding body parts, etc. Knock on wood.
I attribute this partially to me having outrun the month to a brand new city. Partially to a new, defiant, "I-can-do-this!" attitude. And mostly just to great grace.
And in honor of this total life shift, I'm presenting you, dear reader, with my very favorite recipe of the moment:

French Lemon Yogurt Cake with Lemon-Saffron Buttercream Frosting

. What I like to call: The Mean Reds Cake; AKA: edible sunshine.
I've brought this cake to 2 different dinner parties this February, and it has ended up being the belle of the ball, brightening up the dreariest of February days, and further demonstrating that Gluten-Free baked goods do not have to taste like sandy cardboard. Just substitued 1:1 GF Flour Mix and added a tsp of Xantham Gum. The photo is of the remains of last night's dinner party: This cake I made with 2 layers, and a layer of toasted salted ground almonds in between, for a little crunch to the smooth weightlessness.
The recipe is adapted to be GF from Molly Wizenberg's (genius) book, "A Homemade Life" (thanks again, Lynda!), which is adapted from her (genius!) blog
. Highly highly recommended.
I skipped Molly's glaze, though, and instead for a buttercream, I used a simple recipe and sprinkled a little Moroccan saffron powder to get a sunnier yellow color and deeper flavor, instead of using yellow food coloring:
Lemon Buttercream Frosting
·
mix the butter, lemon zest and vanilla together, making sure all the lumps are gone.
·
add the milk, and quickly cream it into the butter mixture.
·
by the 1/2 cup, mix in the sugar.
·
once the sugar is all in the bowl, cream on "high" for two minutes. (I use this time to clean up)
The worst is over.